1. Sally Hansen Gel Nail Polishes
These Sally Hansen Gel Nail Polishes are only £10.00 and last for such a long time. I have only recently been trying Sally Hansen Gel Nail Polishes. They are so easy to apply and dry really fast!
These nail polishes also last for 10 days or up to two weeks.
2.OPI Nail Polishes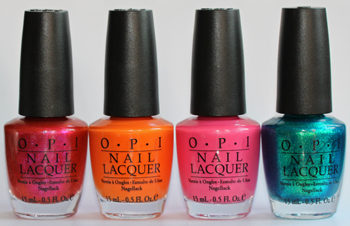 OPI Nail Polishes can be really expensive. I only have one OPI nail polish which I got for my birthday and they are the best nail polishes I have ever tried. They have such a wide range of colours and will make your manicure last for long
3. Essie Nail Polishes
I love all of Essie's nail polishes as they have a wide range of classic and unusual colours. Essie's nail polishes are also very easy to apply. For a mid price range nail polish Essie is a go to. Out of all of the three nail polishes Essie's nail polishes last the shortest amount of time although compaed to a cheap nail varnish Essie still lasts for long!
Thanks For Reading! :)
~~~~~~~~~~~~~~~~~~~~~~~~~~~~~~
Twitter: Sineadocbeauty
Instagram: Sineadocbeauty
Email: Sineadocbeauty@gmail.com
~~~~~~~~~~~~~~~~~~~~~~~~~~~~~~